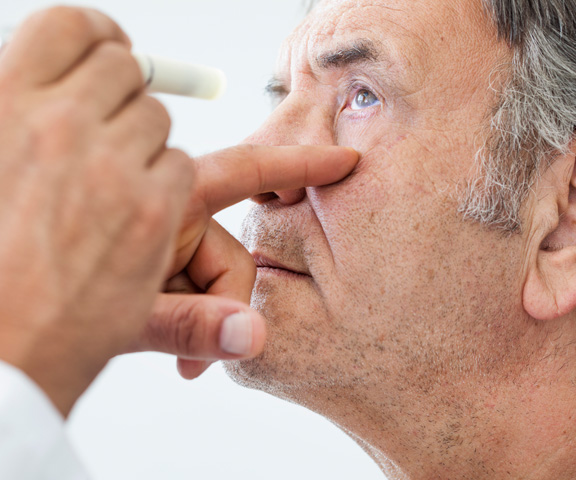 Home infusion of teprotumumab-trbw (Tepezza), a breakthrough treatment for thyroid eye disease, was found to effectively minimize the chance of COVID-19 infection.
By Drew Hardman, Marketing Manager
In 2020, Chartwell Pennsylvania, LP, part of CarepathRx, was the first provider in the nation to administer teprotumumab-trbw (Tepezza), a breakthrough medication for the treatment of thyroid eye disease (TED), in a home-infusion setting—an incredible achievement in the treatment of a potentially debilitating autoimmune disease.
"In the wake of the COVID-19 outbreak, access to home infusion therapy is more important than ever," said Ca COO David Benedict, PharmD, BCPS. "Many home infusion patients are considered at higher risk of severe reaction to COVID-19 due to age, chronic illness, and/or an immunocompromised condition. Treatment at home effectively minimizes the chance of infection for both patients and staff."
Infusion Milestone
Teprotumumab-trbw is administered once every 3 weeks for a total of 8 infusions. Patients are screened on a case-by-case basis to determine their eligibility to receive the first dose in either a controlled setting, such as a hospital or outpatient infusion center, or in the home.
A number of factors play a role in determining whether a patient is a good candidate to receive the initial infusion in the home, including comorbidities such as diabetes or irritable bowel syndrome (IBS), and other factors such as age, medication allergies, and whether the patient is a smoker or plans to become pregnant.
The first patient to receive the initial dose in the home setting, representing an important milestone in the teprotumumab-trbw home infusion process, took place just 2 weeks into the state-mandated quarantine. Ophthalmology specialist Charles Kent, MD, MMM, Everett & Hurite Ophthalmic Association, served as the prescribing physician.
"During the COVID-19 crisis, home infusion just makes sense," Kent said. "It keeps patients out of the hospital setting. Spending hours in the hospital among other patients and employees is not practical when this infusion can be administered safely in the home."
Another prescribing physician for multiple teprotumumab-trbw patients, Jenny Yu, MD, clinical assistant professor of Ophthalmology, University of Pittsburgh, called the situation "the perfect storm" for many patients with TED. Yu, who also serves on the UPMC Orbital, Oculoplastic, and Aesthetic Surgery Service, cited not only the pandemic, but also the importance of timing in the patient's treatment.
"The drug in treatment is time-sensitive, in terms of catching the patient in the inflammatory phase," Yu said. "Of course, we also had COVID-19 to tend with. Home infusion limits the kind of exposure to infection that you would find in a hospital or outpatient setting. Younger patients without many other comorbidities are excellent candidates for the initial infusion in the home."
In addition to easing the burden of care placed on hospitals and other health care facilities, home infusion creates a unique level of convenience for the patient and caregiver.
TED
Approved on January 21, 2020, teprotumumab-trbw is the first and only FDA-approved medicine for the treatment of TED, a rare and serious autoimmune disease with vast variability in duration and symptom presentation. The term "thyroid eye disease" is often used in conjunction with Graves' disease, an autoimmune disorder that causes hyperthyroidism, although the 2 are sometimes distinct conditions.
"It's often interchangeable," Yu said. "About 85% of TED patients have Graves' Disease; the other 15% are associated with other thyroid disorders."
TED can lead to a wide array of vision-threatening impairments, such as dry eye disease; diplopia, which is misalignment of the eyes; visual acuity and visual field defects; facial disfigurement; and optic neuropathy in 6% to 9% of patients, according to statistics from manufacturer Horizon Therapeutics.
Teprotumumab-trbw has a novel mechanism designed to block the insulin-like growth factor-1 receptor (IGF-1R), which is the key mediator of TED. The treatment received Priority Review, Orphan Drug, Fast Track, and Breakthrough Therapy designations from the FDA.
Teprotumumab-trbw is unique among other immunosuppressants, Yu explained, referencing the initial teprotumumab trials and the subsequent study published in 2017 by noted surgeons Raymond Douglas, MD, PhD, aesthetic orbital and oculoplastic surgeon, and Terry Smith, MD, professor of Ophthalmology and Visual Sciences, University of Michigan.